Minister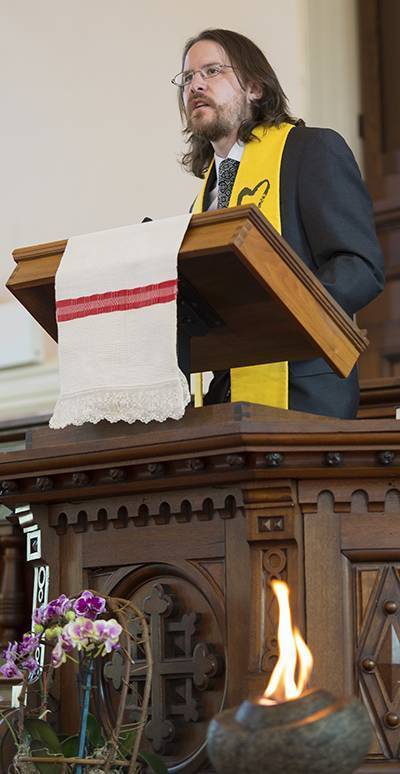 Rev. Kelly Weisman Asprooth-Jackson has been the minister at First Parish Church in Beverly, Massachusetts since 2010. He holds a B.A. from Bard College and a Master of Divinity degree from Starr King School for the Ministry. Before coming to First Parish, he served as a hospital chaplain and as a part-time parish minister in Western New York State. He is a lifelong Unitarian Universalist, a science fiction buff, and a vegan.
In a sermon from November 2016, he outlined a vision for the First Parish family: "We are going to stay true to our values, and help each other stay strong, even as the world around us may not, because that's what a family does. And the strength that we have as a family isn't just going to be for us; we're going to be strong together, and we're going to use that strength to help other people who need it, because that's another thing that a family does."
Rev. Kelly and his partner, Sara, were married in 2004 and have a daughter, Miriam, and a son, Mordecai. They live in Beverly where, after many vagabond years, they are happy to finally be at home.
Rev. Kelly maintains office hours at the church Tuesdays, Wednesdays, and Thursdays, from 9am to 3pm and is available then and at other times by appointment. He may be reached by phone at the church (978-922-3968) or by email at minister@firstparishbeverly.org