Music at First Parish

"Above the tumult and the strife,

I hear the music ringing.

It sounds an echo in my soul.

How can I keep from singing?"
At First Parish, music stirs our souls.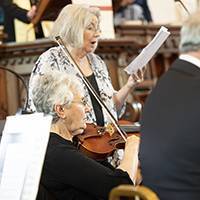 Each week, we sing from the Unitarian Universalist hymnals Singing the Living Tradition and Singing the Journey as part of our worship service, accompanied by organist and Interim Music Director Ellen Powers. More often than not, our church choir also performs stunning songs that summon our spirits to attention. Often, guest musicians and church members will also perform music at First Parish, where the sanctuary's outstanding acoustics provide an ideal home to seasoned professional musicians and newcomers alike.
The musical selection at First Parish includes many hymns from the Unitarian Universalist and other faith traditions; dazzling classical pieces written by the likes of Bach, Beethoven, and Mozart, performed on the organ by Powers; ceremonial chants, work songs, or call-and-response songs from a diverse array of global cultures; and occasionally more contemporary popular songs, often folk tunes tied to our social justice mission from artists such as Pete Seeger, Billy Bragg, and Sister Rosetta Tharpe.
Please consider bringing your unique voice to First Parish and joining our community in the shared ritual of song this Sunday.