Membership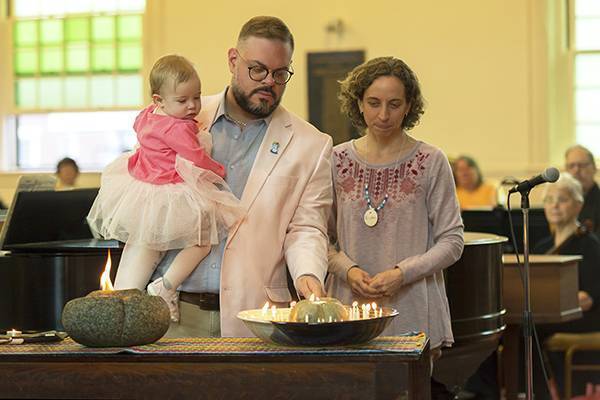 We are a caring, helping, thinking, singing, laughing, learning, and justice-seeking people. We encourage you to visit with us at First Parish for a few months and join our activities, attend an orientation meeting, or have a conference with our minister. When you are comfortable with us – that is, if and when you feel you've found your spiritual home – tell our minister that you would like to sign the membership book, and become a full-fledged member.
Twice a year we have a ceremony at a Sunday worship service, a special welcome to those who have recently joined. While the ceremony is simple, the commitment is real. We have these expectations of our members:
Be present: attend regularly and bring your authentic self;
Grow your own faith and seek to develop a spiritual life;
Make this part of your community; venture into deeper connections with others;
Give of yourself at least three ways each year (help our children, do something for social justice, care for those in need, help with a Sunday service, etc.); and
Support the church financially by making an annual pledge.
In becoming a member of First Parish, you are joining in kinship with people who will enrich your life as you enrich theirs. Together, we will improve the world around us, share our joys and concerns, and have a lot of fun along the way. There is no such thing as a "typical" Unitarian Universalist. We believe that diversity enriches us all, that each of us have talents to share, and that, together, we will accomplish wonders.
Ready to become a member? Email Steve Hoy or call him at (978) 590-6202 to let us know you are ready to join the First Parish family!